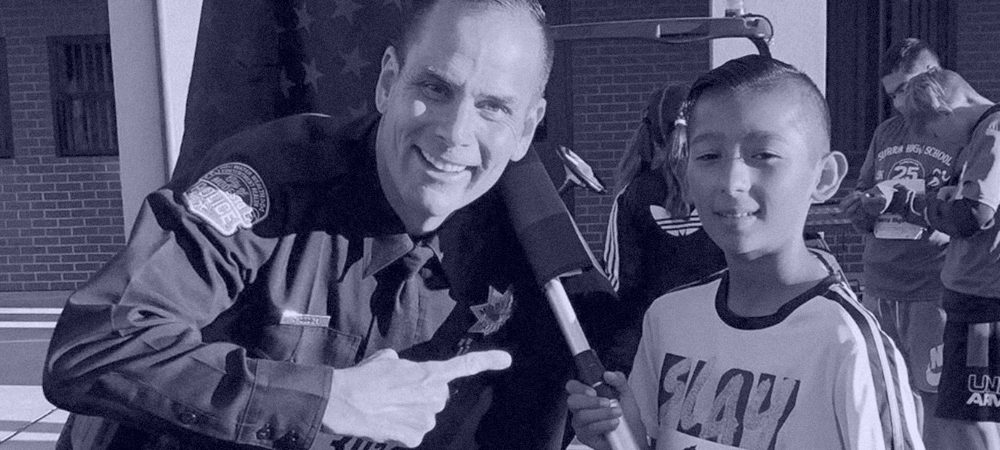 A new model for change
Inner city communities across America are in crisis, caught in a cycle poverty, crime and violence. We have a moral imperative to ensure the health and safety of every community across our country.
Project Blue is a relationship-building model that unites police and communities around our most vulnerable youth to ignite transformational change for generations to come.
We know that when we build trust and strong, healthy relationships between police and communities, we can create positive outcomes. When we rally the whole of community around our youth, we can empower them to thrive and to become positive contributors to society.
Together, we can change the trajectory for millions caught in an endless cycle of violence, mental health issues and hopelessness – opening them to opportunity and their full potential.
Learn More
Meet Gabriel Banuelos
Gabriel Banuelos was scared. There, standing with his mother in their apartment, was a police officer. His mind raced. "Are we getting arrested? Are we going to get deported?"
Little did Gabriel suspect how much this visit was going to change his life for the better and inspire him to help others.
The son of a single mom, who came to America as an undocumented immigrant, Gabriel, his brother and two sisters, grew up in Nickerson Gardens, one of the more infamous developments in the crime-ridden Watts neighborhood of south LA. As a boy, Gabriel refused to join any of the various gangs that ruled the streets. His resolve would often lead to derision—and worse—from his peers. "I would end up getting beat up or jumped just because I wouldn't be in their situation," Gabriel says of the young gang members in the neighborhood.
And there were few places he and his siblings could safely play.
Despairing that her children lived as virtual prisoners in their home, Gabriel's mother, Maricela, got involved in several community organizations, attending local meetings to try and address the challenges facing their neighborhood. That was how she met Officer Jeff Joyce, part of a new community policing initiative of the LAPD. Maricela invited Joyce to her home to talk about the problems her children were having.
For Gabriel, this uniformed man standing in his home was the enemy. "Kids in the neighborhood were kind of trained to see cops like robots who control the neighborhood. To be feared. Don't get in their way or else you'll get punished."
But as he spoke with Joyce, Gabriel's impression changed. He realized there was a real person in that uniform—one who was there to help him. Hearing about Gabriel's passion for soccer, Joyce suggested they go kick a ball around.
Read More
Soccer became a weekly event for Gabriel and Joyce and, as other kids saw them playing, they were invited to join in. "If there was a cop with us, people would leave us alone," he recalls. Gabriel realized this could become something much bigger. He could create a safe space for other youth in his neighborhood, the way Joyce had for him. He approached Joyce about turning the informal games into a
formal program, and Nick's Kids was born.
Within a year, Nick's Kids – one of the affiliate programs supported by Project Blue expanded from four or five kids kicking the ball around on Friday night to more than thirty youth participating. Further inspiration struck. Maybe they could help kids in other ways too. "We saw how big of an impact playing soccer was," Gabriel recalls. "But how much more of an impact could it be if we also included the academic side?"
After that, to participate in the soccer, kids also had to maintain a minimum grade point average in school. Mentoring and tutoring programs were set up to help participants struggling with their classes.
As for Gabriel, the impact has been enormous. He says the program pushed him to be the best he could be. His grades in school rose and, with support from a scholarship, Gabriel earned a place in a local private school he had never before imagined that he could attend. He graduated with a 4.0 GPA, and is now attending UCLA to study biology. In 2021, sports network ESPN honored Gabriel's incredible work in his community, presenting him the Billy Jean King Youth Leadership Award.
Get Involved
Creating centers of hope and opportunity.
Built on proven measurable results and decades of experience in our most challenging communities, Project Blue's goal is to shift America's underserved communities to centers of hope and opportunity.
Project Blue is a movement to transform communities by rallying around youth. Its affiliate programs focus on comprehensive, holistic youth development. From sharpening problem-solving skills to instilling self-confidence, we empower youth with life-long skills and resilience for long-term success.
Life Skills
Project Blue programs provide youth with the life-long skills – from respect and team work to financial literacy – they need to become productive and successful adults.
Health & Wellness
We promote both physical and mental well-being to create healthier and more resilient youth, ready to cope with everything the world throws at them.
Academics
We believe education is the key to a brighter future. All youth participating in our programs require a minimum GPA. For those struggling to meet the standard, our mentors will help..
Support & Safety
Parents and guardians, working with police and community volunteers, play a critical role in building a sense of safety, community, and trust. Their participation is essential.
Service
When you give back, you get back. Instilling the importance of contributing to their communities is why service is an important part of all Project Blue programs.
When people unite around a common goal, the result is wonderfully uncommon.
To achieve transformational change, we need to come together to provide hope and opportunity to youth.
01
Police
Creating opportunities for police officers to positively engage with the communities they serve increases safety and security and boosts morale among the officers. We can help you get started..
02
Community Groups
Do you have an idea? Or an existing program that could fit in the Project Blue model? By joining Project Blue, you'll get help with everything from well-being resources for youth to fundraising and reporting.
03
Coaches & Mentors
We need your help. Without our volunteers, none of these programs would be possible. Let us connect you and your unique talents with a Project Blue program that needs your help.
04
Parents & Caregivers
As parents and caregivers, you want the best for the young people in our life. We can help you find a program that's right for that young person.
05
Donate
Every dollar donated goes towards bringing youth programming to life, whether it's a general donation or directed to a specific program.